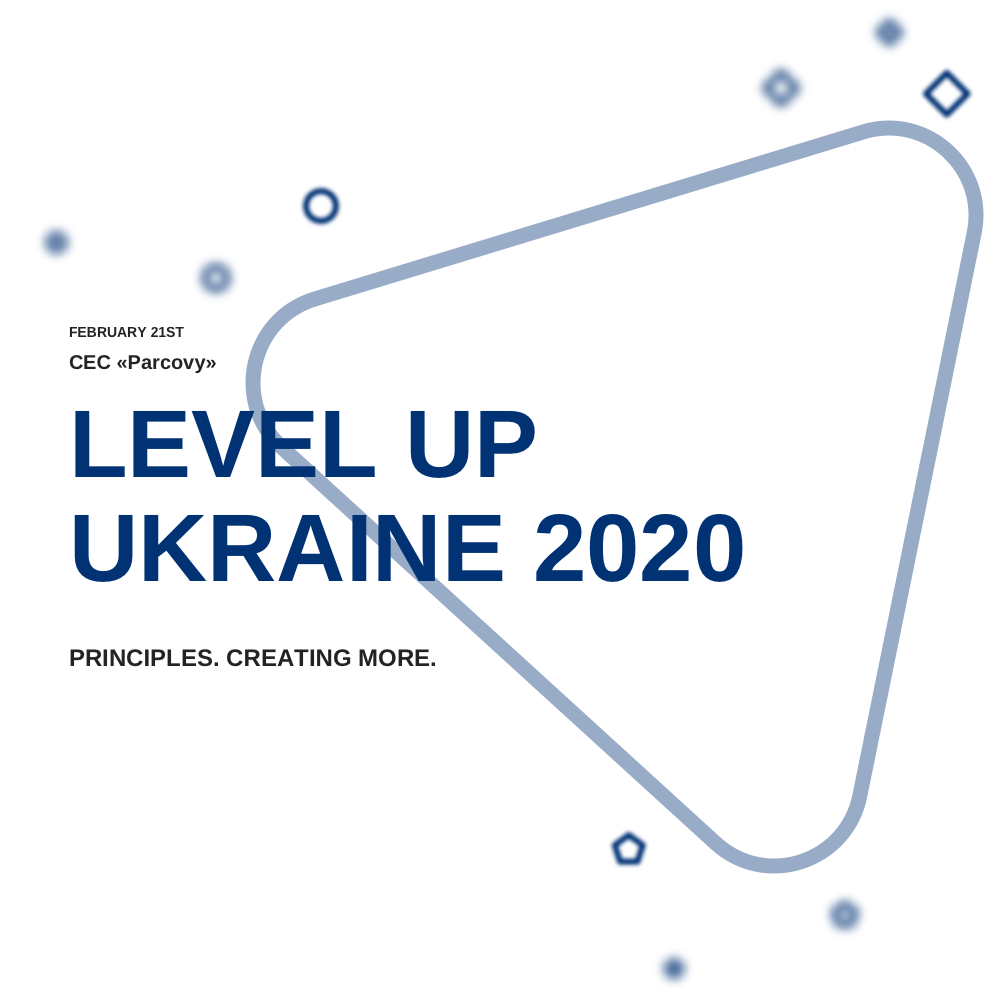 From Investment to Education: Forum Level UP Ukraine 2020 was held in Kiev, Ukraine.
On February 21 in CEC "Parkovy" was held the Forum Level UP Ukraine 2020 (That for the last four years is the platform for strengthening the partnership between business, government and community). The Forum main purpose is the systemic reforming and innovative transformation of Ukrainian economy. The forum attendants and participants were business associations, foreign investors, economic experts, public authorities, representatives and international organizations. This year Level Up Ukraine assembled many stakeholders for working out and making decisions capable of improving the investment-attractiveness of Ukraine and starting a new stage of economic growth in countries history.
The main topic of Level UP Ukraine 2020 – was "Principles. Creating more" was holding and participation in four panel discussions and two thematic discussions. The panels discussed and sought ways to: Encourage/draw investment, concession mechanisms, privatization, land reforms and business involvement in the education sphere and specialists training. More than 600 business owners, 30 international investors and more than 30 speakers during the Forum developed concepts and interacted with all interested parties to improve the economic situation of the whole country. The most important component of improving the Ukrainian economy is attracting new investment for growth and improvement.
During the "Trust is the main component of investment: business, society, government" panel discussion, Minister of Economy, Sales and Agriculture of Ukraine, Timothy Milovanov emphasized attention and need of trust and investment in Ukraine because of main funds exhaustion is reaching the 60% point. Ukraine needs from $50 to $100 mlrd investment in the coming years to overcome the lag from neighboring countries. Minister evaluated and stated that Ukrainian's "per capita" level of investment is less than $1000-per-person which is significantly less than neighboring countries. Milovanov considers that tools of involvement investment are changes of monetary politicians, privatization, concession, reasonable loans, reforming judicial and law systems, launching land market and changing labor law legislation.
Oleg Ustenko, Executive Director of International Bleyzer Foundation, noted that every invested billion dollars provides an increase of GDP of Ukraine of 0.1 to 0.5%. He highlighted that the reasons of low investment activity in Ukraine are insufficient level of property rights protection, and ineffective workings of the judicial system and corruption. Ustenko emphasized that current rates of economic growth in Ukraine are not high enough and should be no less than 5% yearly. Also participating in that panel discussion was Hizo Uhlava, First Deputy Director of the National Anti-Corruption Bureau of Ukraine. He noted that his department investigates more than 400 criminal cases, and 70 of them are under judicial consideration. It is Uhlava's opinion that work of this department will become more effective because the Anti-Corruption Court of Ukraine has recently started its work.
Dmytro Sennychenko, Chairman of State property Fund of Ukraine, during the panel «Investing in infrastructure. Development issues of concession and privatization» discussed the topic of attracting investment with a help of privatization. In his words, the «State Property Fund is planning to set on privatization of 300 to 500 objects, including 5 objects from a list of a "big privatization" in the year 2020». He also stated that a «Significant part of state's enterprises are "feeders" that enriched only separate financial and political groups. Privatization can break the vicious cycle, when money washed out from state-own enterprises to be used for party financing and to become a part of a government». The state has laid out a budget for 2020 the privatization of about 12 billion uah. But the main task is not just income for the Public Treasure; but generate income for investors ready to invest in to modernization of enterprises and to expand social guarantees for their employees. Sennychenko emphasized that «My task is to make privatization a transparent process and to provide income of potential investors. We have developed an investment plan with a different offer for investors with any financial opportunities.»
Participants at this same panel also analyzed/discussed the seaports of "Olivia" and "Kherson" and creating economic concession. General Partner of the Forum was GIG. They are Georgia's largest industrial holding company and the winner of the concessionary competition by "Kherson's" port. The owner of Georgian Industrial Groupe, David Bezhuashvili said that the concessionary competition was maximal transparent, and the Authorities of Ukraine provided comprehensive support to all participants. Also, in agreement with the concessionary competition thesis was Natalya Ulyanova, the author of Level Up Ukraine, Founder, CEO UNA//PARTNERS, Vice-President of the Association of Taxpayers of Ukraine. She also stated how necessary it is to use and build on this experience in different industries of economy and infrastructure. She also noted that Level Up Ukraine is a platform for communication and cooperation between business, government and society.
Daniel Bercel, Vice-President of the European Economic Senate, stated that the concession model showed good viability in Ukraine and his structure leads conversations with regional authorities of Ukraine about implementation of different infrastructural projects. This organization signed the Memorandum of cooperation with the European Economic Senate, according to this agreement Ukrainian business will be consulted about adaptation to EU legislation requirements.
In the modern world, a quality education is the key to successful development of the state and innovative development of the economy. Lacking an effective educational system, the State is at risk of falling into a "poverty trap" where the lack of qualified specialists leads to an inability to increase of labor productivity, gross domestic product, and improve social standards. This was discussed during the Panel "Continuing development: Principles of continuous education for business, government and adult population of country". Gela Bezhuashvili, Former Executive Director Georgian Industrial Group, shared experience of creating the European school where the principal difference from conventional educational institutions is the school's desire to give students not only knowledge but also practical skills. The school's classrooms are equipped with modern technologies and laboratories equipped with 3D printers. Bezhuashvili emphasized that school education should be an important focus in any state. The goal of each school should be to provide students with real competencies/skills to acquire knowledge at work. He also outlined three main issues of education: what to teach, how to teach and who exactly should teach. In European schools, students among other things also studying programming and marketing. So, in future, they will be able to promote their own products. "We are introducing a method such as project-based learning. This makes it possible for high school students to work on projects in which 4 teachers participate at the same time. Today, teachers know their subject; but do not know how to teach it. They have modern digital equipment; but they don't know how to use it. That's why we developed a 10-year school digital transformation program. We train teachers to use all modern means."- said Bezhuashvili. Oleksandr Borniakov, Deputy Minister for Digital Transformation of Ukraine, noted nowadays the historical development of education must be a continuous process and not limited to 5 years in university.
Vladyslav Savchenko, Founder of PowerCode (the international software development company), emphasized that modern technology evolves every 3 to 6 months. For that reason, 5-year programs are becoming less relevant. At the same time, Yevhen Bulakh, Sales Director of Vodafon Ukraine (Partner of innovative solutions of Level UP Ukraine 2020), stated that universities must get support in order for graduates to seamlessly adapt to the labor market. He gave Vodafon as an example that supports educational programs at the State University of Telecommunication. Bulakh stated that "We have a shortage of personnel in new technological areas. To get a specialist not only for us, but also for the market, we need to support universities". At the same time, it is important that graduates would be ready to learn new skills every day. "Many holdings establish their own schools, academies to improve new staff and to retrain employees. We know what to expect and what kind of employees we need to prepare tomorrow.", he noted. Another important topic of Bulakh's speech was dedicated to the appearance of 'data' as a new and valuable resource in the world markets. As a Director of Vodofon, Yavhen Bulakh stated that "We understand that there is a huge amount of data in the world. We as a telecommunication company also owns this data. Data is new oil. We need to start and to develop competence in this area, so that universities graduate not average specialists, but those who could immediately benefit the industry" for the fast development of a postindustrial economy in Ukraine. That will help not only increase the margins of business, but also more effectively use the country's resources.
During Round table, "Land issue: What mechanism must begin to work in Ukraine to make reform working?" discussed how important is to conduct the land reform in a format yields the greatest economic impact for the national economy. Most experts agree that fears of the public that foreigners will buy up Ukrainian land are exaggerated.
Level UP Ukraine is a permanent platform! So with the close of the Forum 2020 starts the work on the Forum 2021! Organizers predict next year's Forum will be even larger and expand the geography of participants.
The Forum Organizers wish to thank all partners:
General Partner, Georgian Industrial Group
Official Partners, Farmak, BCPP, Indar
Strategic Partner, Real Matrix, PE Bel
Special Partner, Powercode
Host Partner, Premier Palace Hotel
Official Transport Partner, UIA
Development Partner, UN Global Compact Network in Ukraine
Partner of Innovative Solution, Vodafon
Analytical Partner, Association of International Investors in Ukraine
Business Partner, URB
International Finance Corporation (ICF)
Information Partners