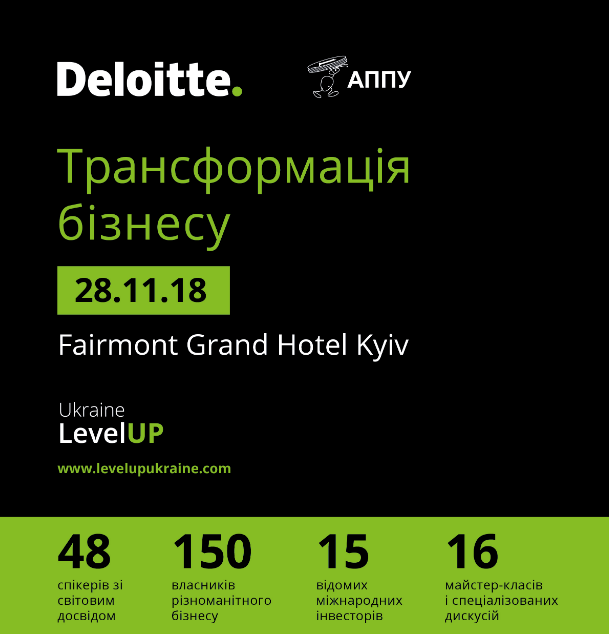 Kyiv meets annual large-scale business forum Level UP Ukraine 2018.
On November 28 at 9:00 Deloitte Ukraine in a partnership with the Association of Taxpayers of Ukraine organizes a large-scale business forum Level UP Ukraine 2018 which will bw held at the Fairmont Grand Hotel Kyiv.
This year the theme for the event is Business Transformation. We will talk about structural changes in Ukrainian companies, about the future of a qualitatively changing business. We will share our experience regarding the challenges and benefits that companies have received after a smart transformation, discuss real transformation cases, international experience and trends.
The Third Annual Business Forum brings together more than 500 participants, including business and government figures from Ukraine and all over the world, key players of the transformation market, investors, regulators and experts.
It is expected that four sessions will be attended including several formats: discussing major trends and changes in Ukrainian law and business on the main stage, as well as two parallel streams of industry workshops from close-area professionals, with real transformation cases. The rich program will be complemented by an evening cocktail with interesting music content and useful networking.
Among the speakers of the forum: Yakov Smoly, Head of the National Bank of Ukraine; Andrey Bulakh, Managing Partner of Deloitte in Ukraine; Natalia Ulyanova, Partner of the Deloitte Tax and Legal Department in Ukraine; Grigol Katamadze, President of the Association of Taxpayers of Ukraine; Clement Koussens, CEO of AGRO KMR (France); Givi Topchishvili, President of 9.8 Group (USA); John Shmorgun, President of AgroGeneration; Pim Haaszik, Managing Director of Green Seed Group (Holland).
"According to a Deloitte study, one of the outstanding results of the Industrial Revolution 4.0 is to enhance the role of business in areas where the state has played a decisive role and even a monopoly role. And indeed: business has certain resources and the ability to influence on its suppliers and customers; is more mobile than the state and more organized than society. But by increasing influence, responsibility increases. In such circumstances, the business will not be able to stand away. Is it ready for such changes? To be transparent, honest, socially responsible, environmentally friendly, valuable. Changes do not begin in government offices, but in the minds of specific people and their daily behavior, " says Andriy Bulakh, Deloitte's managing partner in Ukraine.
"I expect the Forum to have an honest, open discussion, a dialogue between business and government in order each side could heard each other. I am waiting for the reaction of the participants to the presentation the final version of the Concept of the tax code of development, which is agreed with 68 associations of the Ukrainian business community. I have great hope that at this forum that Ukrainian startups will find their potential investors. I expect that a new generation of Ukrainian youth - transformational leaders - will express their readiness to change the country directly and clearly. This is exactly what business forums are for, " said Grigol Katamadze, President of the Association of Taxpayers.