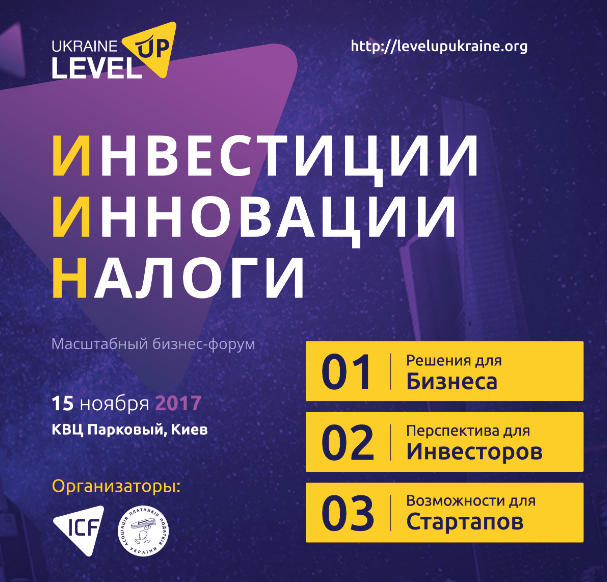 Level UP Ukraine 2017 business forum to be held in Kiev.
The business forum will address changes in international and Ukrainian taxation as well as tax and investment decisions for business. On November 15, Ukraine Level UP 2017 large-scale business forum will be held at the Park congress-exhibition complex in Kiev, with the support of the international company ICF Legal Service and the Association of Taxpayers of Ukraine. The press service of the event reports this.
The Business Forum aims to unite key players in the Ukrainian market and international business.A new platform for communication between the state, regulators, experts, entrepreneurs and investors.
"For the second year in a row, we turn attention of our business to changes in the international market and Ukrainian taxation, the changes that are taking place in this area and the preparation for them. In 2017, we aim to focus on tax and investment business solutions and create a platform for open business dialogue, investors and the state. The Startup Alley will become a unique playground for networking and agreement", Natalia Ulyanova reports - ideological inspirer of the event.
The speakers of the forum will be Professor of IMD Business School Arturo Brice, Chairman of the Verkhovna Rada Committee on Tax and Customs Policy Nina Yuzhanina, Head of the Association of Taxpayers of Ukraine (APPU) Grigol Katamadze, Owner of HUB 4.0, Vice-President of APPU IT Committee Omelchenko, founder and president of 9.8 Group Givi Topchishvili, Secretary General of the European Taxpayers Association Michael Eger.
Among the topics to be discussed: Changes for businesses in the Ukrainian and international tax fields, whether a business has a chance to be effective in a turbulent environment, where private and investment capital moves, how the rules affecting its movement change, how businesses react to these changes and more.
"For us, the co-organizers of the forum, the primary goal is to build transparent, trusting relationships, finding reliable partners and building strong bridges of international cooperation. Therefore, you will not hear mere words and unnecessary advices. Straight talk and candid answers to exciting questions. World experience of state achievements, establishing business relationships and supporting attractive investment projects are a fraction of what you get by visiting Level Up Ukraine 2017", said Grigol Katamadze, Chairman of the Association of Taxpayers of Ukraine.