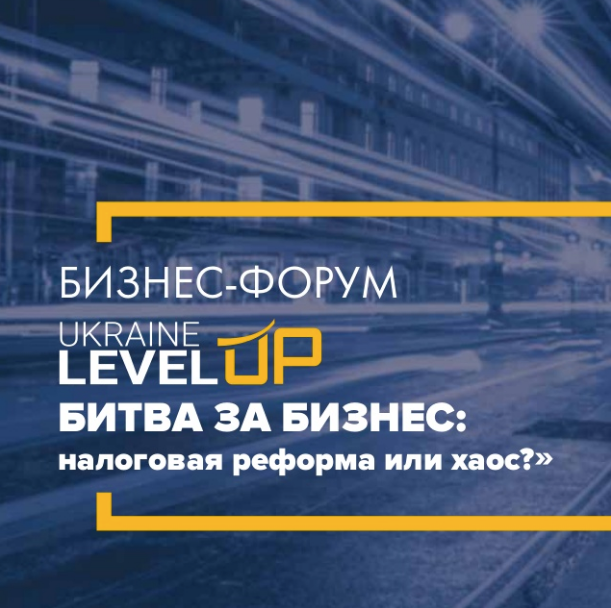 Level UP Ukraine 2016: A large-scale forum for a global breakthrough.
On November 23 Kiev will host the forum "Level UP Ukraine 2016. The battle for business: Tax reform or chaos?" The event will bring together 750 participants from Ukraine, Europe and Asia in one location, and invited foreign experts from 7 countries will share practical recommendations on doing business and international trade."
The event is organized by ICF Legal Service and Ukrainian Taxpayers Association, with the support of CEO Club Ukraine.
In the Business Forum program:
- Global and local economic trends, business climate in Ukraine, Doing Business-2017.
- Tax reform in Ukraine. Exclusive: presentation of a new liberal tax code.
- The battle for tax transparency: de-offshoreization in Ukraine and the world.
- OECD CRS - all about automatic exchange of financial account information.
- New strategies for developing Ukrainian business, attracting financing and seeking investors.
- We are opening up promising markets: USA, Asia, Arabian Gulf countries.
- Keeping the course on the EU: a strategic partner and a platform for further development.
Forum's audience: CEO, CFO, CLO of large Ukrainian companies, lawyers and financiers, marketers, economic experts, government representatives.
The general partner of the forum is Azovmash. Partners: Pharmak, Indar. The general radio partner is Vesti radio. Business Partner: UBR. Information partners: ACC, EVA, Ukrainian Chamber of Commerce, MIM-Kyiv, HUB 4.0, Business magazine, Community magazine, Professional editions of Ukraine, Herald magazine, Legal practice, First business channel, Newtend.